70 YEARS
of outdoor Furniture Made in Italy
A LONG PATHWAY OF INNOVATION, QUALITY, SUSTAINABILITY AND INTERNATIONAL VOCATION.
In the 1950s a fresh start was needed, counting on good will of people and their ability to challenge themselves. A clean slate, an economic stalemate situation which did not scare those who had the imagination to restyle themselves. For EMU, in 1951, it was the brothers Aldo and Angelo Biscarini – with their brother-in-law Dante Menconi – who took the initiative. In the village of Marsciano, in a region associated with farming and the brick industry, they established Elettro-Meccanica Umbra. The small company produced transmission equipment for military use, based on the expertise and skill of its founders. More specifically, the Biscarini brothers had been radio-transmission officers in Africa during World War II, while Menconi contributed as a mechanical expert.
EMU, combining its own characteristics with those of the new market, recommissioned its production to furniture. It started by manufacturing school and office furniture, experimenting and finetuning its PVC finishing processes, which led to the first plasticization plant in Italy. By protecting the materials in this way, its products became suitable for outdoor use and to withstand bad weather.
The Rio armchair was one of the company's greatest hits; for the whole decade between 1960 and 1970 it had been classified as garden product; then – in the early 1970s – two important American operators placed a substantial order for their warehouses, showcasing Rio in their advertising campaign as an armchair with streamlined shapes, suitable for any environment, not just for the garden. In this way the target was achieved of selling over half a million pieces per year of this item, which became incredibly popular. A project born in a village of Umbria was exhibited at the Rockefeller Center and featured on the historic Mark Twain boat, as well as ending up on the cover of the vinyl record by Lucio Battisti "Una donna per amico", and having a myriad sports champions sit on it. Rio was a smart idea, an exciting choice, and has remained a best-seller for many years.
In 1984 the new factory in Schiavo, covering 50,000 square metres, was inaugurated. The partnership with IKEA was a real turning point for the history of EMU and lasted for the whole of the 1980s and '90s, allowing for the development of large-scale automated production plants and international distribution.
This was followed by difficult years, which the company was able to overcome thanks to the professional commitment of a team of EMU friends – Riccardo, Jan, Aldo – who, between 1990 and 2000, further boosted internationalisation and introduced extremely effective, albeit basic, product ideas. Management change led to new creative drive; Aldo Ciabatti was the mind behind the restyling of iron collections; one of the first products in this regard was the "Ronda" chair of 1996, which replaced the much vaunted Rio, almost twenty years later.
A first step was taken towards an industrial and trade diversification strategy, reintroducing wood collections and adjusting the most advanced metal finishing technologies with the new cataphoresis system, inaugurated in the year 2000.
In 2005 the majority share in EMU was bought by the L Capital fund of the French group LVMH. Also during this period, the company started working with major designers, including Christophe Pillet, Rodolfo Dordoni, Paola Navone, Patricia Urquiola, and several others who provided the company with excellent input, paving its way for the market niche known as "accessible luxury". The substantial research and technology investments led the company to understanding the importance of design and planning for industrial production, thereby placing EMU at a higher level. In 2007, the covers of the main international magazines featured the Round, Heaven, Retrouvèand Nef collections, all characterised by a restyling of metal and the possibility of manipulating it.
In 2017 the Biscarini family, historic founders of the company, together with its management, took over 100% of its shareholding. In May 2018 the new Design&Simulation Centre was inaugurated, following a strong impulse by the new executives, with a view to enhancing product research and use of the products in various settings. This was an extremely important element for the company, which has been working for years with designers and up-and-coming professionals, as an integral part of a wider brand development project. The new design Centre is therefore expected not just to enhance the product, integrating it in its natural indoor & outdoor settings, but also to offer a welcoming instrument for the sales staff, which has a chance to give customers the most realistically possible overview of the end result; last but not least, the Centre is aimed at boosting research and development activities in the current design department, a space where technicians, designers and young academics can find inspiration for the continuous development of processes and products.
70 years of adventures, exciting innovation – despite some hitches – always supported by the steadfastness of the whole staff leading to functional products with unsurpassed usable life, consistent with the culture of their region, since time immemorial and… for time immemorial!
The result is a balanced mix in its collections of design, functionality, technology, manufacturing capacity and environment-friendly features. Open-air spaces with an authentic Made in Italy style, between comfort, sociability and relaxation, where you can meet and share the art of living an Italian-style garden.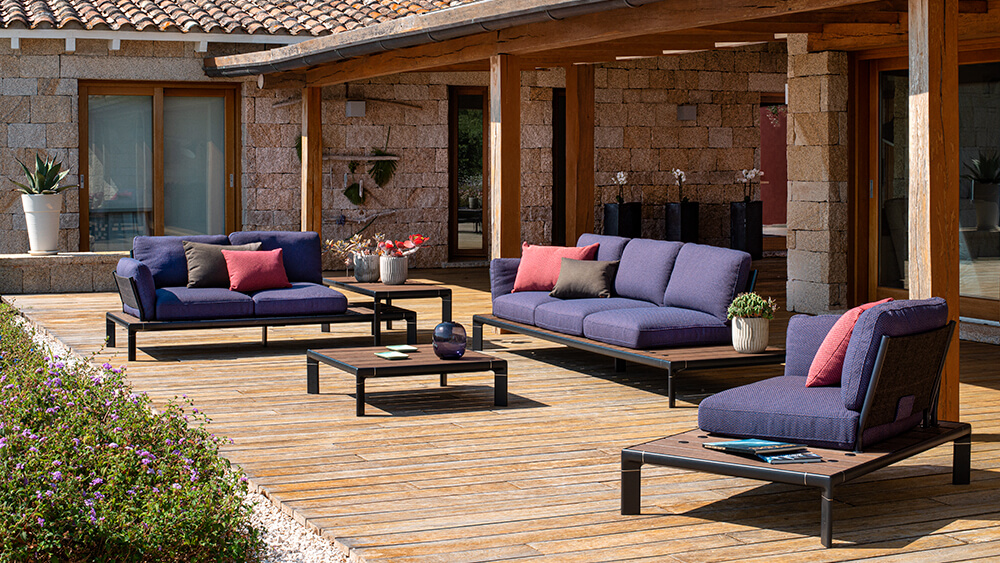 Our all-Italian quality
Expect the highest quality, seek detailed perfection and keep an innovative mentality: these have always been EMU's guidelines. Our company designs, implements and controls all the production phases in our Marsciano headquarter in the heart of Umbria and closely monitors all the processing steps on our various suppliers' premises. We work together in a close-knit network according to the latest models of production organisation. This scrupulous control, starting from the tests during the design and processing phases continuing with the cataphoresis and painting processes up to the validation of the finished product, ensures long lasting and weather resistant products. . EMU products, the perfect furnishing solution for every style and ambiance, are the result of our skillful blend of technological innovation and craftsmen's expertise, the priceless company heritage. This is how timeless design icons are created for our gardens. EMU welcomes us in the open-air with authentic, Made in Italy comfort, so we can relax and get together with our friends and family to share the art of enjoying the garden Italian style.
Sustainability with a Green Heart
We began and have grown surrounded by nature and our concern and love for the environment is in our DNA. We have always cared for our area: Umbria, Italy's Green Heart. Our love for our land and devotion to our company are values we have handed down from generation to generation, from father to son from the very beginning. This natural familiarity has enabled us to preserve and perfect our work. We realize and control all the production phases in its factory in Marsciano. That's because we are deeply bounded to the 100% Made in Italy production philosophy, and we are consistent with the culture of our territory. This scrupulous control, starting from the tests during the design and processing phases continuing with the cataphoresis and painting processes up to the validation of the finished product, ensures long lasting and weather resistant products. We focuse on the entire product life cycle within the environment, ranging from the use of 100% recyclable and non-combustible materials, such as steel and aluminium, to recycling and minimising waste. Our company is also committed to constantly reducing its use of plastics by using smaller, recyclable cardboard packaging.
Knowledge and Technology
EMU is taking big steps forward every day in ongoing technological and stylistic research. Tradition and evolution come together towards a new way of living, thanks to the use of innovative material mixes and the constant investment in advanced technology and automation, such as robotic welding and finishing cell. This ambitious vision is revealed inside the Design&Simulation Center, our research centre, which aims to boost development in the design department, where technicians and designers can find inspiration for increasingly advanced processes and products. The company has set its heart on future expansion, which relies on a worthwhile exchange of ideas with talented young people, enabled by working very closely with national and international universities and design centres.
What has been said about us
I bought one of your sunbeds 18 or 20 years ago and to this day its conditions are perfect despite being outdoors in summer and winter. Not a trace of oxidation, not a deteriorated component: well done!
A.M.
I still have a wooden table, 4 chairs, 2 deckchairs and a trolley all painted white that I bought in the late 70s.
G. Z.
One of the best designs in the EMU collection is the one I chose for my terrace and these are the words of a pro! Precision design created by J. Nouvel for our affiliate RBC's showroom in Montpelier.
J. C. R.
We've got the Athena table and are very pleased with it! Extremely hard-wearing with an inbuilt extension system, in short the best!
C. W.
Beautiful, comfortable deckchairs. Last year I re-upholstered them after 25 years. Wonderful colours!
I. F.
I have had the pleasure of selling and owning your fantastic, long-lasting products for years, well done!
M. F.
Very beautiful, top quality, I know because I sold it
whilst working at Leroy Merlin in the 80s.
G. H.
I love your garden sofa sets. I bought two, one for me
and one as a present. Beautiful and indestructible!
A. M.
I've had my garden furniture for years and it's still going strong!
V. S.
I bought an outdoor table, armchairs, cushions, chairs and two deckchairs
in 1987 and it's all as good as new!
A. M. I.
I bought a Snooze deckchair and I'm so thrilled with it,
I'll be buying another three. I chose beige.
R. P.
I've had 3 garden chairs and a table for a good 12 years that have never been covered even in winter and are still in good condition…
I live in Varese… an excellent product I can recommend!
G. B.
I bought 4 chairs in 1984 that were outdoors in Rome until I moved to Piedmont in 2005.
Now they're on the veranda and they're still in perfect condition!
V. Z.
It's all true. I have two garden chairs that have been outdoors for years and haven't
batted an eyelid.
R. I.
I love this very stylish, but also extremely hard-wearing brand.
P. L.-H.
Undoubtedly top quality. Today I actually got rid of two EMU chairs
and a small sofa I bought in 1983 and had always left outside.
G. G.
I have your grey seats and table. They're exceptional, they put up with everything.
M. S.
Eternal works of art… having seen their undeniable quality!
R. M.
I bought your products over 12 years ago and they're still perfect!
R. C.
4 EMU outdoor chairs, purchased 20 years ago, have remained outside around the dining table 365 days a year, cleaned with soap and water perhaps just the once at the beginning of summer. Still AS GOOD AS NEW. Sure proof of an excellent product in my opinion. Well done!
L. B.